"I have been going to The Refinery 208 Salon for almost 4 years now, and I have never looked back since! Not only are the stylists knowledgeable on all things hair (which translates to the most BEAUTIFUL hair possible), they are all extremely friendly. Walking into the salon is like the breath of fresh air you never knew you needed! The salon itself is extremely clean & very stylish. I don't know where I would be without this place!" - Jennifer S.
FEEL YOUR BEST.
ACHIEVE YOUR HAIR GOALS.
As true artists in the hair industry, we take into account the individuality of each person. With that, we can creatively enhance the outer beauty to match the inner beauty for all to see. Specializing in various methods of extensions, Refinery 208 Salon can determine the right method designed with you in mind.
We look forward to meeting you and helping you get the hair you've always dreamed of!
REQUEST AN APPOINTMENT
HAND-TIED HAIR EXTENSIONS
Fullness and volume in hair is something not everyone was born with. In fact, just installing one row of hand tied hair extensions can give you the amazing volume that mother nature couldn't! Maybe you love your length but just want thicker fuller hair. With hand tied hair extensions, this is absolutely possible. One of our team members can help determine what is the right amount of hair that will work for you.
REQUEST AN APPOINTMENT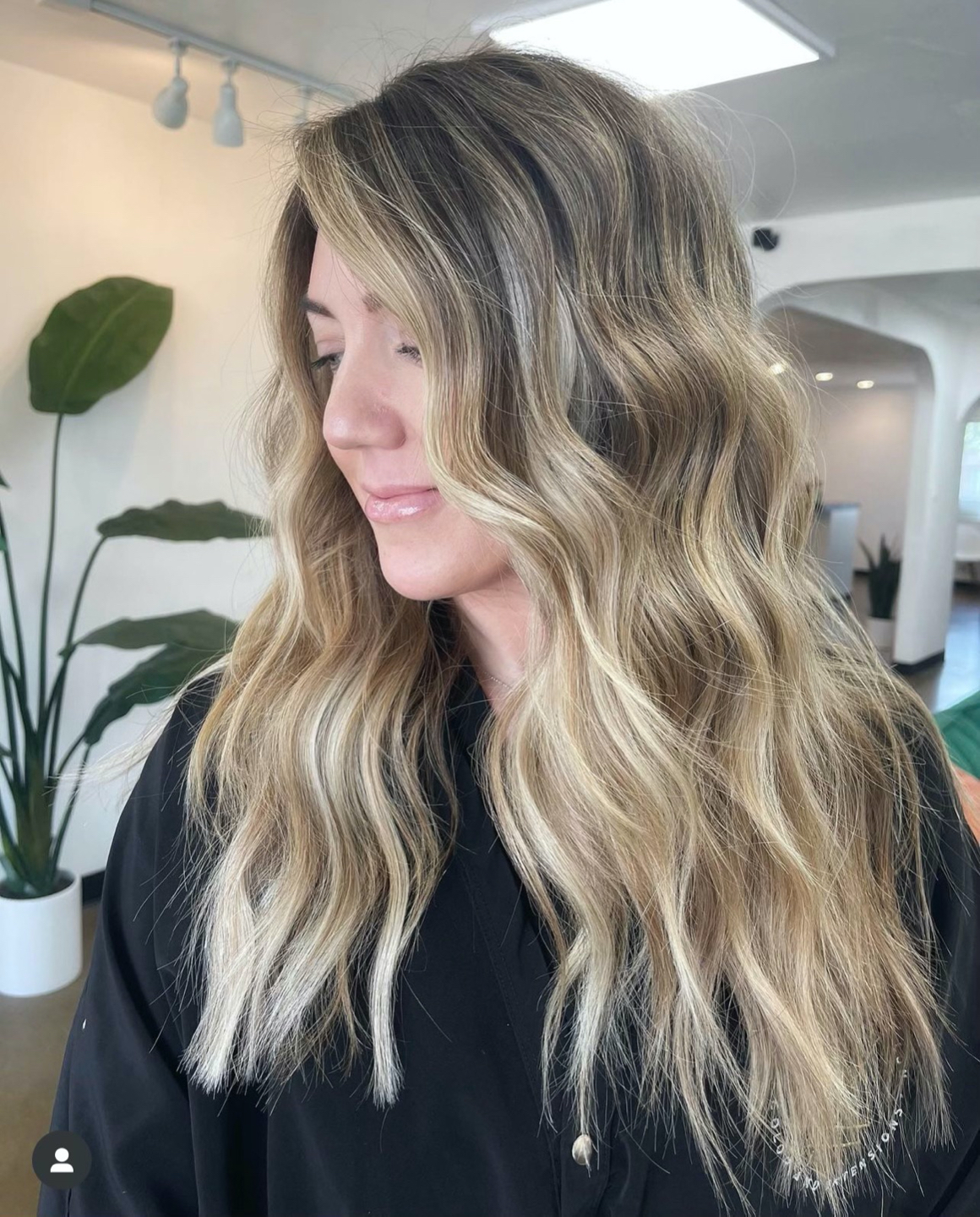 HAIR COLOR
Every client has different needs and goals when it comes to hair color. Whether it be covering grey roots or creating a lived-in, sun kissed blonde we customize everything to fit your lifestyle.
REQUEST AN APPOINTMENT
REFINED WORK.
RELAXED LUXURY.
The Refinery Method was designed for both the stylist and the client in mind. Our goal is to help take away the fear and help change the way artists look at hand-tied extensions.
The creators, Christy and Nicole, have been specializing in hand-tied extensions for over 6 years. After countless hours of education in various methods they realized that one size does not fit all. Despite learning and offering different methods they were finding gaps within each method depending on their clients and their needs. The Refinery Method was created to help bridge those gaps and offer our guests another solution.
Christy and Nicole wanted to share what they found with their fellow artists! They realized that every hair artist learns differently and that in-person, hands-on education is crucial when learning a new skill. Add to that, small class sizes and opportunities for one on one education is also a must. Catering to each artists learning style helps speed up the learning process!
REQUEST AN APPOINTMENT
WHAT OUR CLIENTS ARE SAYING...
"This is the best place I have ever been to for hair extensions. Jessica is my hairstylist/extension specialist, and I'm impressed with how careful she is not to even pull one strand of hair, she also gives a nice scalp massage. 😊. I am 100% hooked on this salon. They have been very patient with me finding the right hair that suits my lifestyle. Everyone is friendly and I also love the espresso!"
- Your Bestmate
"I was introduced to Refinery 208 by my gym friend who had been seeing Nicole for her color AND extensions for years. Since my phone consult and first appointment with Nicole in January 2022, I have been to Refinery 208 11 times so far, and I highly recommend Nicole and find every staff member very professional, warm and welcoming. They have always been open to feedback, every appointment starts with a mini-consult and resync on how my hair felt and looked after last visit, and if I want to change anything up. The Salon ambience is great, they have all the amenities, and most importantly, they are great people and always go above and beyond to ensure I leave here happy with my hair. I highly recommend Refinery 208"
- Aaks L.
"I ABSOLUTELY LOVE THIS SALON. Jess never fails to pay close attention to detail and gives me my absolute DREAM hair every time!! Adara is not only a positive energy in the salon but is also SO knowledgeable and personable--an absolute light! My extension journey at other salons has been long and frustrating, but I finally know I've found the most welcoming salon full of experienced stylists that are passionate about their work and are 100% client centered. 10/10 would recommend."
- Emily B.
JOIN OUR NEWSLETTER
Be the first to know about our latest news, trends, topics and more!
Refined work | Relaxed Luxury ™
At Refinery 208 Salon we specialize in Hand Tied Hair Extensions and custom hair color. Your hair is the crown you never take off!
Refinery 208
2546 E Indian School Rd Suite A East Side
Phoenix, AZ 85016
T.480-407-7432